GPAC Corporate Accounting
Accounting • Distribution • Production • Payroll
Pick Products's GPAC Accounting package provides a complete, fully integrated solution to corporate accounting needs build on modern MultiValue database systems using Pick Products's own Wizard 4GL development tool.
GPAC is built on a modular design allowing you to implement any or all of the modules. Modules include:
GPAC includes a versatile report writer for rapid production of complex reports, incorporates a complete audit trail, has full-screen help which can be customised by users to suit their needs. GPAC is incredibly flexible, supporting multiple companies, divisions, branches, etc.
GPAC also links directly to desktop applications such as Microsoft Excel, as well as EIS tools.
Key functions within GPAC are now available through a web interface or the traditional "green-screen" interface (click the thumbnail to see larger images):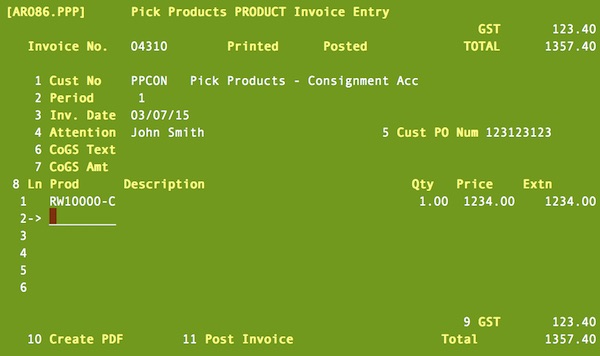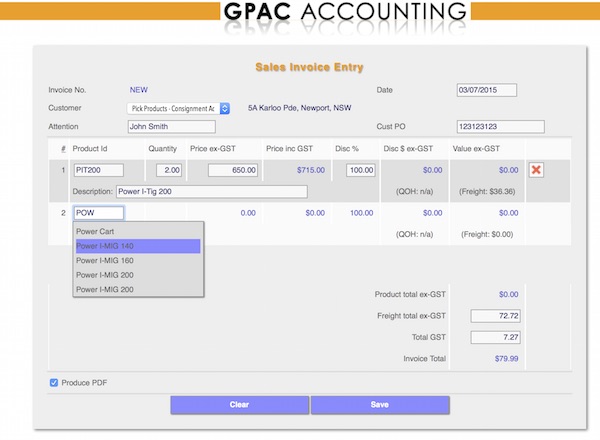 General Ledger
The GPAC Corporate General Ledger is designed specifically for use with the UniVerse database, Pick D3, and similar Multi-Value databases. It has been used by companies with literally hundreds of subsidiaries and yet remains simple to use.
It is a true accounting system — all entries are full double-entry with full audit trail. It can operate as a stand-alone system, be fully integrated with other GPAC modules, or, a with mixture of other modules, either custom written or from other package suppliers. These other modules need not even be on a Multi-Value database but in this case, drill-down facilities may not be fully functional.
Rollout of modules can be over time. This may include initial posting from reports prior to full automatic integration.
Completely flexible account code formats up to 18 characters (can be extended)
Unlimited companies and/or divisions and/or departments
Automatic posting from subsidiary ledgers
General, Reverse, Standing, Standard, Prior and Future period journal entries
Automatic posting to intercompany current accounts
Individual monthly balances and movement totals for both current and previous year fully supported by transaction details
Automatic year end clearing of income statement items to retained earnings by company. Audit and any other adjustments may then be brought forward into the new year opening balances
Audit Ledger with full transaction history
Prior years? data can be retained indefinitely with full online access and reporting
Subsidiary ledgers can be introduced as required
Menu System provides comprehensive security
Standard reports, (Profit and Loss, Balance Sheet, etc) readily tailored to reflect a user's unique Chart of Accounts requirement
Flexible easy-to-use report writer
All reports can be exported directly to Excel or as CSV files
Replication facility to quickly create new Chart of Accounts from standard charts, without rekeying
Fail safe closing procedure where all processes check that necessary prior procedures have been completed
Subsidiary ledgers may close at different times and the next period may be commenced without the previous GL period being closed
Hierarchy Structure exists for multilevel reporting for tax, local management, foreign management, etc
Report writer enables financial and management reports to be easily formatted as required
Foreign Currency reporting
Unlimited number of budgets/forecasts. These can be developed from combinations of Current and Last Year actuals and other budgets/forecasts. These may be factored to accommodate inflation, forecast changes, etc.
Budgets can automatically apportioned to accounts on user-defined seasonal methods such as 12 even periods, 4 4 5 weekly allocation or individually if required.
Budgets can be uploaded from Excel
Comprehensive Online help available and facility provided to allow the user to maintain or modify documentation for custom changes. Manuals need never be obsolete.
Drill-down feature from account enquiry to original transaction level, for example, from payment to supplier invoice to goods inwards to purchase order.
Accounts Payable
Features of the GPAC Accounts Payable module includes:
Payment of creditors by EFT, system cheque, manual cheque or Telegraphic Transfer
Remittance advice by email, fax, or regular mail
Fully integrated into General ledger and other GPAC modules
Default allocation of supplier invoices to any number of accounts with fixed amounts or based on percentage split
Multiple companies/divisions
Each company/division may have multiple Bank Accounts
Unrestricted Vendor ID format
Payments to non-creditors (allocated directly to the General Ledger)
Enquiry by supplier, voucher, payment with full search facilities and drill down to original transactions
Standard and override terms for suppliers including discounts if applicable
Bank reconciliation facility fully integrated to General Ledger
Hold payment on individual creditors
Hold payment on individual invoices
Part payment of invoices
Foreign and local currency amounts stored
Foreign currency bank draft processing
Analysis code verification by transaction to monitor costs
Ability to preview system cheque run prior to printing and EFT before file preparation
Retention amount on invoices (for major projects)
Payment run selections by group e.g. NSW creditors by invoice due date
Optional one step end of month facility to summarise, print and post to the General Ledger
Fail safe end of month procedures
Ability to void cheques
Ability to cancel cheques
Comprehensive on — line help facility
Comprehensive reporting
Journal adjustments of items within a Creditor, between Creditors or between Creditor and the General Ledger
Accounts Receivable
Features of the GPAC Accounts Receivable module includes:
Open item or balance forward for individual debtors
Statements - can be run on any combination of customers required
Debtors Adjustment Journal allows transfer within a Debtor, between Debtors or between the Debtor and General Ledger.
Amounts may be credited directly to General Ledger accounts for non debtor cash receipts
Approved Bank Deposit Slip (in duplicate) is produced with all cash amounts combined into the one deposit line
Full audit trail of all transactions
Customer able to be placed on hold
Customer contact register. Records previous contact with specific customer and due date for next contact
Follow up reports for nominated dates using customer contact register
Ability to dynamically age each customer while in the customer account enquiry
Ageing can be tailored to each customer using a user-defined ageing table to accommodate many combinations of ageing criteria eg. 7, 14, 28 days while other may be 30, 60, 90 or current, month 1, months 2, etc.
Ability to create and print sales invoices and adjustment notes
Ability to print statements and debtor ledgers for previous periods
Comprehensive enquiry facility by customer, invoice adjustment journal and cash receipt
Batch control and reporting
Ability to split a cash receipt between a Debtor and a General Ledger account
Facility to categorise transactions into Bank Account, Bankcard, Mastercard or Visa
Record payments on account
Discount facility within cash receipts
Retentions facility available
Ability to do a detailed transaction history enquiry while allocating cash to a customer
Comprehensive online help facility
Comprehensive reporting
Credit limits able to be set for each customer
Customer account status report. Shows base details, transaction ageing then detailed current or history transactions
Ability to record lengthy comments when entering a cash receipt where the invoice is partly paid
Ability to report on those partly paid transactions with comments
Ability to alter transaction dates
Ability to report on cash received against invoices on the basis of nominated periods as distinct from accounting periods
Asset Management
Features of the GPAC Asset Management module includes:
Unrestricted Asset ID format
Multiple companies/divisions
Unlimited Number of Asset Types
Assets may be assigned to Major, Intermediate and Minor locations
Different Methods of Depreciation may be used for Book and Tax
Different rates of Depreciation may be used for Book and Tax
Depreciation may be charged to multiple Cost Centres/Departments
For each asset addition, Supplier details, payment details, and Serial Number is recorded
Assets may be purchased as new or second hand
Records salvage values
Supports bonus tax depreciation
Records Insurance values
Insurance Policy details recorded separately for each asset
Comprehensive reporting for both Book and Tax depreciation
Ability to forecast depreciation till the end of the current year and up to ten years in advance
Comprehensive reporting and enquiries of forecasts by General Ledger accounts or Asset Number
Allows for easy takeup of Financial Leases
Automatic calculation of interest rates in a lease
Automatic Accounting entries for leases
Reporting of Balance Sheet lease commitments
Ability to dispose of part of an asset
Automatic calculation of profit or loss on disposal
Sales Order/Invoicing
The GPAC Sales Order/Invoicing System is a complete Sales Order Processing system. It has been designed to fully integrate with other GPAC Modules, including Inventory, Job Costing, Accounts Receivable and General Ledger.
Features include:
Full integration with Inventory Management, Accounts Receivable, Purchasing, Job Costing and General Ledger
Browser-based interface for key features
Visual reporting capability using U2 DataVu
Facility to enter Sales Order, Print Picking Slip and confirm Picking Slip to order
Ability to do parts availability enquiry within an order entry screen
Manual invoice entry available
Backorders passed on stock shortfall
Backorder stock enquiry and release facility
Credit note facility
Credit checking facility
Credit surcharges may be applied
Unlimited multiple delivery addresses for a given customer
Automatic or manual order/invoice numbering
Supersessions
Purchase order enquiry to view outstanding purchase orders
Reservation of stock to backorders
Orders can be held until complete, with automatic allocation of stock, to prevent part deliveries
Wholesale pricing
Retail pricing
Contract/customer pricing including qty/price breaks
Customer type pricing including qty/price breaks
Settlement discounts
Sales budgets for customers and product classes
Comprehensive enquiry and reporting on sales details.
Inventory Management
The GPAC Inventory Management System is designed specifically for use with the UniVerse database, Pick D3, and similar Multi-Value databases. It has been used by companies with literally hundreds of subsidiaries and yet remains simple to use.
The GPAC Inventory Management System is intended to be a straightforward tool to help optimise Inventories with the minimum amount of administration. Optimise not minimise, is the objective, as being out of stock can be just as costly as being overstocked. The optimum can be achieved extremely efficiently through use of the modules integrating with Inventory Management including Sales Order Management, Purchase Order Management, Manufacturing and General Ledger.
Features of the GPAC Inventory Management module includes:
Variable length product codes to 15 characters. These may be extended to 20.
Product description up to 30 characters. Detailed description unlimited
Multiwarehouse control of stock
Unlimited product classes, commodity codes and purchase groups
Unlimited alternatives per product suppliers
Selling unit of measure may be different from stock holding unit of measure
Buyer unit of measure may be different from stock holding unit of measure
Both current and future pricing held on file
Ability to produce price lists. Both current and future pricing
Product pricing may be:
Wholesale price
Retail price
Contract price including quantity/price breaks
Buyer type pricing including quantity/price breaks
Product engineering notes
Alternative part numbers. i.e., use your customer supplier product number to obtain your part number
Supersessions
Auto calculation of maximum/minimum quantities based on usage
Comprehensive stocktake system, enabling you to count stock for different warehouses at different times
Replenishment reports detailing requirements by warehouse
Sales/usage reports detailing your sales in units and dollars MTD and YTD
Inventory costing reports
Comprehensive enquiry screens enabling you to view all the details of your parts
Complete audit of all transactions
Job Costing
The GPAC Job Costing System is completely integrated with Inventory Management, Sales Order/Invoicing, Purchasing and Bill of Materials. This module is ideally suited to organisations which have a need to run sophisticated, mature software to manage their manufacturing costs. It enables you to closely monitor the costs of jobs, be it labour, issues or purchased costs or all of the above.
Features of the GPAC Job Costing module includes:
Create stock and non-stock works orders
Unlimited text fields for description of jobs
Ability to write off jobs
Transfer one job to another job
Serial parts tracking
Allocate stock prior to issues
Produce picking slips for issues to a job
Allows for returns from a job
Confirm issues and returns prior to posting stock and costs
Comprehensive reporting on jobs and WIP including overdue jobs
Detailed enquiry on jobs showing all costs incurred, e.g. labour, purchases, issues and jobs transferred in
Employee details maintained
Unlimited unproductive codes
Unlimited departments
Unlimited operations
Time sheet entry for capturing labour costs
Labour enquiry for employee or job
Labour reports for productive and unproductive hours, both weekly and monthly
Bill of Materials
GPAC Bill of Materials provides an ideal environment for Jobbing production. The Bills are simple to prepare with no artificial limits imposed (e.g. no limit to number of levels). Bill of Materials allows you to start with a simple standard Bill and amend it and combine it in any way which the real world of the workshop demands.
The following outline provides a glimpse of the more sophisticated features of our Bill of Materials system. The user can take advantage of these powerful tools if there is advantage to him but they can be completely ignored if inappropriate to his business. The combination of flexible functional design with the Pick-style Multidimensional Database permits the system to cope with very small simple demands through to very large complex ones.
GPAC caters for five different types of Bill of Materials:
Standard Manufactured parts.
Phantom structures which are Bill of Materials for a part that is not stocked or only exists in the middle of an operation.
Secondary Process Bill of Materials for products that have value added by an outside contractor, e.g., kit of parts to be sent out to be assembled or parts that need to be painted, etc.
Purchased parts requiring an engineering Bill of Materials where you supply the details of the components that make the part you wish to purchase.
Option Bills of Materials are used whenever a standard product is produced and there may be optional extras available for that product.

e.g. A standard car with the option of a sun roof, or a caravan with an optional annex, etc.

This enables you to have a Bill of Materials for the standard product and have five optional Bills of Materials giving six Bills instead of seventeen needed to give you all the permutations of the optional extras.
Each Bill of Materials has its own Bill of Operation detailing all the operations needed to produce the end product. Additionally, against each operation, details are stored relating to the costs of this operation. Therefore, very accurate and comprehensive costs can be built up and maintained at any level of a multilevel structure.
The facility to copy a Bill of Materials from one product to another enables you to build similar structures and then make minor changes to the newly created Bill of Materials. This saves time and effort and greatly reduces typographical errors. Detailed comparison of one Bill of Materials to another may also be performed very easily via the standard system, highlighting differences.
There are comprehensive reports or screen displays of single level or multilevel indented structures showing details of component parts and their quantities.
Details of Material Requirements can be obtained using the Bill of Materials to explode through the multi level structure of an end product giving the quantities needed for each of the component parts. These net requirements are checked against current quantity on hand and a report or screen display shows any shortages. This saves time and production effort, enabling you to work on those products. You can finish on time without the costly time delays while waiting for parts to become available.
Products and/or parts can have an alternative part number, giving you the flexibility to use your customers' or your vendors' part numbers to obtain your own internal part numbers. The facility could also be used to obtain the parts that are currently on special or the most popular parts this month: eg. the Top 40 records where TOP1 = GP1291732/5017 which is currently number one of the Top 40, etc.
Materials Requirements Planning
The GPAC Materials Requirements Planning System is intended to be a straightforward tool to help optimise inventories through manufacture/purchases of the stocks required to meet the plan. This module is fully integrated with Job Costing, Purchasing, Sales Order/Invoicing and Inventory Management.
Features of the GPAC MRP module includes:
Allows for multiple plans, i.e., what if
Plans may overlap or be for the same period
Multi-level pegging ? requirements show the details of sales order, job, plan including quantity
Forecast future sales by product or by groups of products
Sales orders are automatically added to the plan
Jobs and issues are automatically included in the plan
Purchase orders are automatically included.
Detailed reports showing purchasing requirements
Detailed reports showing manufacturing requirements
Report detailing obsolete stock with requirements
Requirements for parts with a BOM are exploded through the BOM at all levels
Require dates use the lead time to give accurate start dates for manufacturing or purchasing, allow you to schedule both manufacturing and purchasing
Require dates (start date) may be past due ? to highlight urgently
Purchasing
Features of the GPAC Purchasing module includes:
Local and Import Purchase Order
Shipping Container tracking
Invoice entry prior to Import arrival
Dual foreign and local currency amounts stored
Accurate average costs including ALL costs associated with imports
Print Purchase Orders on preprinted stationery
Ability to change Purchase Orders at any point in their life cycle
Subcontract Purchase Orders (you supply some or all of the material and the Vendor supplies labour and processes the finished parts)
Purchase goods may be for Stock, Secondary Process (Subcontract), NonStock or Jobs. (All types can coexist on one Purchase Order for a given Vendor)
Ability to cancel Orders
Serial number tracking
Unrestricted Vendor ID format
Multiple company/divisions/buyers
Full purchase and transaction History
Year-to-date Purchase History:
Month-to-date Purchase History:
Last year's Purchase History:
Standard and override terms, costs etc for Vendors including discounts if applicable
Miscellaneous inventory receipts
Comprehensive Enquiry Menu
Ability to enquire on another entry screen without leaving the first screen
Comprehensive online help facility
Can be used to stand alone or be fully integrated with the Inventory Management and Accounts Payable modules
Comprehensive reporting driven by a sophisticated user definable selection criteria eliminating the 80:20 principle (80% of data need NOT be reported).
For more information please contact us.